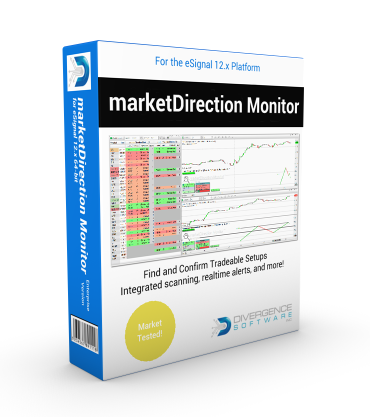 marketDirection Monitor is an unconventional yet powerful tool that assists you in finding and confirming trade opportunities. It is very easy to operate, yet highly configurable, and it delivers information in real-time via an intuitive graphical interface. Most importantly, it can be used standalone or in conjunction with whatever methodology and/or trading tools that you currently have in place. marketDirection Monitor will add value to your current process.
Realtime scanning to identify price levels where a change in volatility or direction is likely to occur. Monitor one or more baskets of securities in multiple timeframes.
As the name suggests, marketDirection Monitor seeks to identify inflection points in the price action. These are zones where price is likely to either change direction or increase in volatility, or both. As a trader, it is beneficial to be aware of these situations so that you can protect an existing trade or plan accordingly for a new trade. Whether you are a veteran or new to the business of trading, a primary concern is always identifying safe and strategic price points at which to enter a trade, and that's where marketDirection Monitor really shines.
marketDirection Monitor operates with all securities and on all bar intervals supported by eSignal, and several example eSignal Page files are included with the installation to get you up and running quickly. If you ever have any questions, a thorough and well-organized online user guide is just a mouse-click away.
In a nutshell, marketDirection Monitor focuses on finding good trading opportunities so that you can focus more on your trading.
marketDirection Monitor is currently available for the 64-bit eSignal platform. It is available directly from eSignal as an Add-On on a monthly subscription basis (with a 1-month free trial). To subscribe to the eSignal Add-On, use the Account Maintenance feature in your eSignal desktop to add the product. You can request a free trial directly from us as well, just send us an email. Longer-term subscriptions are available directly from Divergence Software, Inc. at a significant discount. If you are transitioning from the eSignal Add-On monthly subscription to one of our longer-term subscriptions, just let us know so that we can coordinate the start date of the new subscription for you.
Please see the User Guide and check out all of the Videos for more information on all of the features and functionality.
For a limited time, purchase a 1-year or 2-year subscription to
marketDirection Monitor
and receive a free subscription to
S/R Analyst Pro
for the same term. For a 2-year term that is a $650 value!