S/R Analyst Pro - Support and Resistance Analysis Done Right!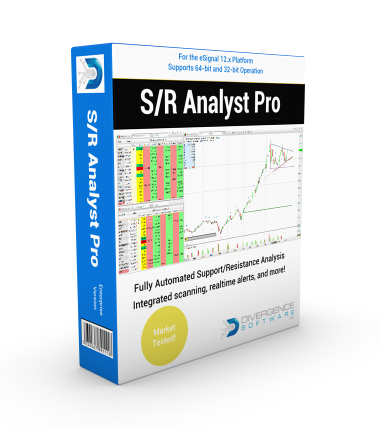 S/R Analyst Pro is our flagship product and it is the only tool for the trader or investor who wants to fully exploit the power of support/resistance and trend lines in his or her trading. It will assist you in identifying low-risk entry points by automatically calculating and then projecting swing pivot points, trend lines, support/resistance zones, and gap zones on charts of any bar interval and for any security. From 1-tick, to daily, to weekly, from candle chart to kagi, from stocks to currencies to commodities, S/R Analyst Pro works with them all!
Scan entire markets for breakouts, bounces, and breakdowns or analyze individual securities...it's up to you!
S/R Analyst Pro is the ultimate support/resistance tool. Using a set of rules and weightings it mathematically identifies and draws the best trend lines based on recent price action. It also automatically identifies and draws all relevant support/resistance zones and gap zones in the vicinity of current price. A important benefit is that the combination of trend lines and S/R zones that it produces also tend to highlight a number of well-known price patterns, such as triangles, flags, pennants, and wedges.
While S/R Analyst has been around in one form or another since 2002, the current version has been re-designed from the ground up. The user interface is intuitive even for beginners, and the integrated scanner functionality allows you to monitor large baskets of securities in various intervals with almost no effort. Alerts are automatically generated and highlighted in the scanner. S/R Analyst Pro is ready to use right out of the box, but it offers a high degree of flexibility in terms of customization and presentation.
Take advantage of your Free Trial today! Just run the Installer and you will be automatically set up for a 30-day no-hassle trial. After installation, review the Getting Started section of the User Guide which will get you up and running quickly. We are confident that if you try it, you will keep it! If you have any questions during your trial period, just send an email to support@sr-analyst.com.